a/v Engine for WHS is a new add-in that particpates in a family of inexpensive / free products from mediadogg Software. The a/v Automation System is a low-end automation set of tools that work together with a simple architeture that allow you to set up virtual remote control tabs incorporating buttons and images overlaid with hotspots. When a hotspot is clicked, the assiciated automation is performed. The automation commands are called "action sequences" which adhere to a simple architecture. Elements of the system include clients, servers and automation editors.
The first product in the series, a/v Dashboard, includes each of these elements, and can be used to create automation tables (XML format) that are loaded by the other tools in the series.
a/v Dashboard - central component of a/v Automation System
.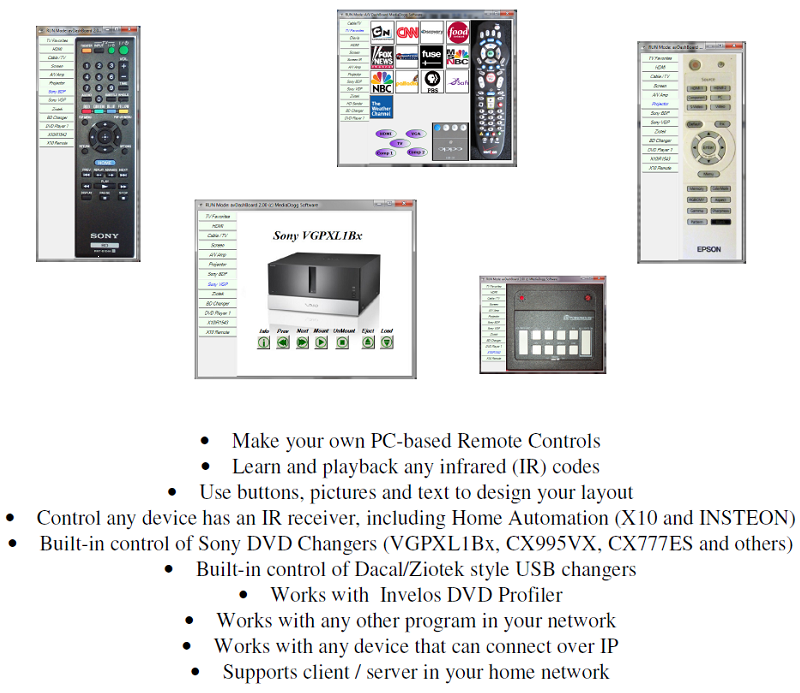 More details and description the various tools in the system can be found in the
a/v Automation System User Guide
.
a/v Engine for Windows Home Server
Features:
- runs on WHS V1 as an add-in to the Console
- a/v Automation Server
- a/v Automation Client with a single virtual remotes tab
- Browser web/cam page
- Browser page supports DVD Profiler Online Collection viewing
- Support for running automation from Online Collection browser, using DVD Profiler exported XML
- LoadDVD style requests for media play streamed from WHS using VLC Player streaming engine
Following is a screenshot of a/v Engine running on my WHS. The WHS is connected to an IR blaster, a Dacal Ziotek carousel and to a Sony CX777ES via RS232. A multi-headed IR emitter mouse beads is connected to the USBUIRT and placed over the IR window of major components. This screen, called "Movie Time" controls 4 DVD/BD changers, a/v receiver, projector, screen, and some Home Theater lights (X10/Insteon). The latest version of a/v Dashboard has support for freezing a screen to the exact size required for WHS.
a/v Engine for WHS contains an automation server, plus a read/only client panel of virtual remote control buttons. This panel is usually designed with a/v DashBoard, but it can also be built manually by creating XML to precise specifications.
To send IR commands, a USBUIRT blaster is required. There is also built-in support for Sony VGPXL1B changers (firewire), Dacal/Ziotek DVD carousels (USB), for several models of Sony 400 disc changers (IR) and Sony CX777ES (rs232).
A useful feature for home automation is the browser / webcam page. With this facility, any local or remote URL can be monitored from the WHS console. The user guide has explicit instructions for setting up a webcam, using available shareware.
For users of DVD Profiler, the browser / webcam page has support for viewing user online DVD Collections. Furthermore, if a/v Engine has access to the export XML from DVD Profiler, the automation action commands associated with DVDs can be executed from the server, while viewing the DVD Profiler Online Collection. Media that would normally be played will instead be streamed using the VLC player engine, if installed on the server. Detailed instructions are provided in the user guide for setting up a client playlist to view the streamed media.
More detailed information and user instructions can be found in the
a/v Engine User Guide
.